Click the Image Below to Visit Our Ad Specialties Dept.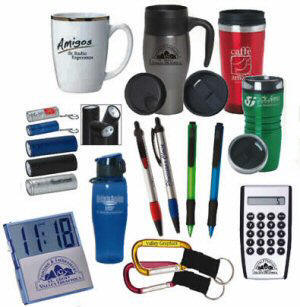 Ad Specialties are probably one of the most used and also most under used items in a business's marketing arsenal. I'm willing to bet that if you look around the room you are currently in you will find at least one, if not, several ad specialties. Something your with your favorite team's logo, a mouse pad with a business imprint on it. You may even use them for your business. We have literally thousands of Ad Specialties you can put your name on. Click Here to visit our Ad Specialties Dept. Our site is fully searchable and you can order directly from it if you wish. If you can't find it here give me a call and I'll do my best to find it for you. Not only can Ad Specialties market your business, but they can also be a source of income. Think about it. You have probably purchased a hat, a T-shirt or other piece of clothing imprinted with a business or team logo. That is an Ad Specialty that not only provides a marketing message for the business but also pays for itself with a profit. So, if you can identify something your customers would buy from you with your name on it your marketing is paid for. Give me a call at 217-474-3971 or send me an

e-mail

  and let's find that Ad Specialty that will keep your name in front of those who pay the bills.